With Halloween right around the corner, your front porch is about to get a lot of traffic. Whether its kids trick or treating, or yourself sitting outside admiring the leaves changing colors, your porch will be enjoyed, and you want it to look its best. Here are some tips for porch safety and décor.
If you haven't already done so, it's important to make sure your porch doesn't need any repairs. A porch without a railing or a broken piece of wood is very dangerous, especially with kids coming to your door on October 31st. Take the time to survey the area and make note of any materials you may need. While your porch will get dirty on its own, you want it to look clean and inviting. Before decorating, remove everything that's currently on it, and sweep it off. To clean it, use mild soap with warm water, and rinse it with hot water.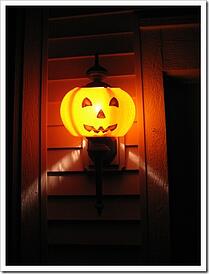 An unlit walkway can be a safety hazard. Check existing porch lights for bulbs that may need replacing, and consider purchasing a light kit to line your walkway with. In addition to being affordable, these kits provide instructions to make this project easy to do on your own. In addition to ensuring safety, lining your walkway with lights will add a decorative touch. For a festive look, consider adding an orange light for Halloween or Thanksgiving above your door.
One tip to get the most use out of pumpkins for decorating: don't carve them right away! In a cool environment, pumpkins can last throughout most of the season when kept whole. Paint on them or use other alternatives to decorate your pumpkins to get the most out of your money. Another cost effective way to decorate is to use things commonly found around you. Take a pot, or another decorative item of choice, and fill it with pinecones, acorns, leaves, and nuts. If you don't want to attract animals, surround these objects with mint and cayenne pepper. Similarly, you can make your own wreath from branches and leaves and hang it on your door.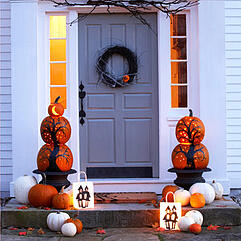 Empty out pots that hold summer plants and replace them with fall mums, a plant that is wildly popular for this time of year. When it comes to picking colors for your décor, opt for rich shades that compliment the fall season. Dark green, browns, yellows, gold, orange, and red are popular fall colors. Get creative and make your porch stand out. Instead of shopping around at local craft stores, use your imagination and create something yourself to represent the fall harvest.
You May Also Like...
How to Choose a Winter Deicing Agent