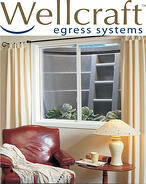 Adding code compliant increased living space to your home has never been easier to do thanks to the Wellcraft Egress System. Window well escape systems may be a safety requirement, but you don't have to sacrifice your basement's beauty to comply with the code. The Wellcraft Egress offers a complete system that turns your basement into a naturally bright, comfortable living room, bedroom, home theatre, recreation room or home office.
A fire can spread through the home in just a matter of minutes so you want the fastest, easiest and most reliable escape route to safety for you and your family. Wellcraft Egress Systems provide a maintenance free egress that features a built-in step ladder and lightweight well cover that even a small child can remove from the inside to get out of the house fast.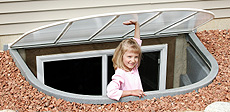 Not only do Wellcraft Egress Systems enhance the safety of the home they add beauty and fill basement rooms with natural ambient light to create a relaxing and soothing environment for you to enjoy with your family & friends. In order to market a finished basement as actual living space it must meet the International Residential Code (IRC) 2000. The points of this code are: Emergency Escape and Rescue Required, Minimum Opening Space, Natural Light, Window Wells, Ladders, Steps, Bars, Grills Covers & Screens. If using the Wellcraft Egress System all of these requirements are met. Egress Systems are now required by law on new construction and adding a Wellcraft Egress to an existing home is affordable and easy to do whether you are a contractor or do-it-yourself enthusiast. Professional contractors can easily install the Wellcraft Egress System in about a day thanks to it user friendly design and components. The Wellcraft Egress System is constructed from polyethylene with UV inhibitors and offer durable, maintenance-free enjoyment for many years. The Wellcraft Egress System provides exceptional weather resistance in all climates and will not rust, dent, or compromise safety with sharp edges. All Wellcraft Egress Systems come with a 10-year warranty against rust, rot, and decay. For more benefits and information on the Wellcraft Egress System please follow the link below.