You all have them – gorgeous hardscape designs, eye catching landscapes, beautiful, enticing decks and walkways. After putting the time and the money into features such as these to glorify your home, why not show them off? With Evening Star Lighting, you can magnify the already existing visual appeal of the landscape designs and outdoor displays you have surrounding your home with subtle, elegant illumination. Reap the benefits of the low voltage architectural accent lighting products ideal for your concrete pavers, landscape walls, columns, decking, deck rails, and docks. We recently had a seminar at Pioneer with Evening Star Lighting, and would like to share some information about this exciting product line with you.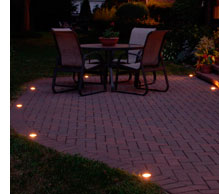 We all know that lighting is a big contributor to the mood you want to set. Whether you want to entertain guests outdoors on your deck, or sip a glass of wine in your outdoor spa area, Evening Star Lighting's Lamp Modules can be placed anywhere, providing a soft illumination and fitting evenly into the surface, maintaining that classy, tasteful appeal. Lamp Modules are flat fixtures that install smoothly with your surface, eliminating a raised trim. There is no need to worry about your young children or curious pets getting into the wiring – the wiring is unexposed and completely safe, adding style and security lighting.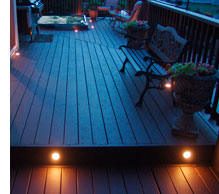 In addition to residential application, Evening Star Lighting is available for commercial projects as well. Here are some of the key beneficial points to consider with Evening Star Accent Lighting:
Economical: Uses a low voltage, 4 watt, long-lasting incandescent lamp as a 15,000-hour rating.
Compact Design: The entire fixture installs evenly into decking boards as thin as one inch.
Durable polycarbonate construction: UV stabilized - will not fade or become brittle, able to withstand vehicular and pedestrian traffic.
Maintenance Free: Completely sealed, watertight, and weed and corrosion proof even in harsh coastal environments.
Exclusive Power Tap Connector: Make quick circuit connections to power supply cable.
No need for re-lamping: Unique Cam-Lock and handy Removal Tool allow for quick and easy replacement or season color changes of Lamp Modules, without wire nuts or splicing.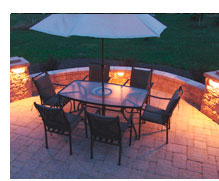 Evening Star Lighting offers a Paver Lighting System, Wall & Step Lighting, as well as Deck, Dock, & Deck Rail Lighting, with a variety of colors and styles to choose from. So get inspired! Consider Evening Star Lighting to accent your outdoor living space.

You May Also Like...
How to Choose a Winter Deicing Agent